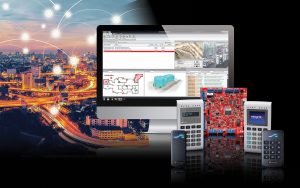 Partitioned systems and a new evidence vault with cryptographic fingerprinting are among a cluster of improvements for our intelligent access control and intruder detection system Integriti.
The Version 19 system update is expected to be available to all new and existing Integriti customers in June.
The update introduces 'partitioned sites', which allows security managers to create users and other global entities that only exist within the partition they were created in. This is particularly useful for multi-tenanted buildings because the partitions are completely isolated and invisible to users in other partitions.
The evidence vault allows files to be stored securely without taking up space in database back-ups. Users can add MD5 and SHA-256 cryptographic hashes to ensure files are not tampered with, while CCTV footage and snapshots associated with certain alerts can be automatically saved to the vault. Fine grain permissions allow the operator high levels of control over who can store or retrieve evidence items.
Other improvements in the Version 19 update include:
An overhaul of Integriti's CCTV interface so it now supports multiple standard layout configurations and is more user-friendly.
Operators can now synchronise users and access events with Kone's next-generation ACI HLI lift platfor
Anew ModBus TCP Slave allows third parties to use the Modbus protocol to monitor and control doors, areas and other inputs.
High-level camera and alarm integration is now possible. Integrated devices, such as cameras and intercoms, can trigger inputs in Integriti's intruder detection system.
Tim Northwood, General Manager at Inner Range, said:
"The ability to automatically save images and film to a secure place without bloating back-up files – and adding cryptographic hashes for extra security – is a great addition to Integriti's offer. As is the ability to separate system users into isolated partitions.
"These features – and all our latest enhancements – offer genuine improvements for access and security.
"Integriti is our flagship intelligent integrated access control and intruder detection system and it continues to evolve to ensure clients get robust safety and security from an intuitive system that security managers want to use."
We will be showcasing these enhancements for Integriti as well as new capabilities for its flexible yet budget-friendly Inception access control system at IFSEC International on June 18-20 at ExCel London at Stand IF1030. Our stand will include eight large screens to demonstrate the manufacturer's access control systems and software in action. We will also be taking part in the event's 'Show Me How' series of demonstrations, with an Inception challenge for installers and integrators.
We have been a world leader in the design and manufacture of intelligent security solutions since it was established in 1988. More than 150,000 of our systems have been installed in over 30 countries. Customers include hospitals and high-security units, colleges, distribution centres and pharmaceutical companies. government and critical national infrastructure.
For more information, please contact us on 0845 470 5000 or email ireurope@innerrange.co.uk