Inception: access control for small businesses and single sites
An award-winning access control and integrated security system that requires no software and is easy to programme, test and commission; delivering real competitive advantage. Budget-friendly, it's the ideal choice if you're looking to secure a single building with up to 128 doors and want some extra functionality such as automating your lighting, heating and air conditioning; helping to save energy costs.
Buy direct from our website or instruct one of our accredited installers to manage the project on your behalf.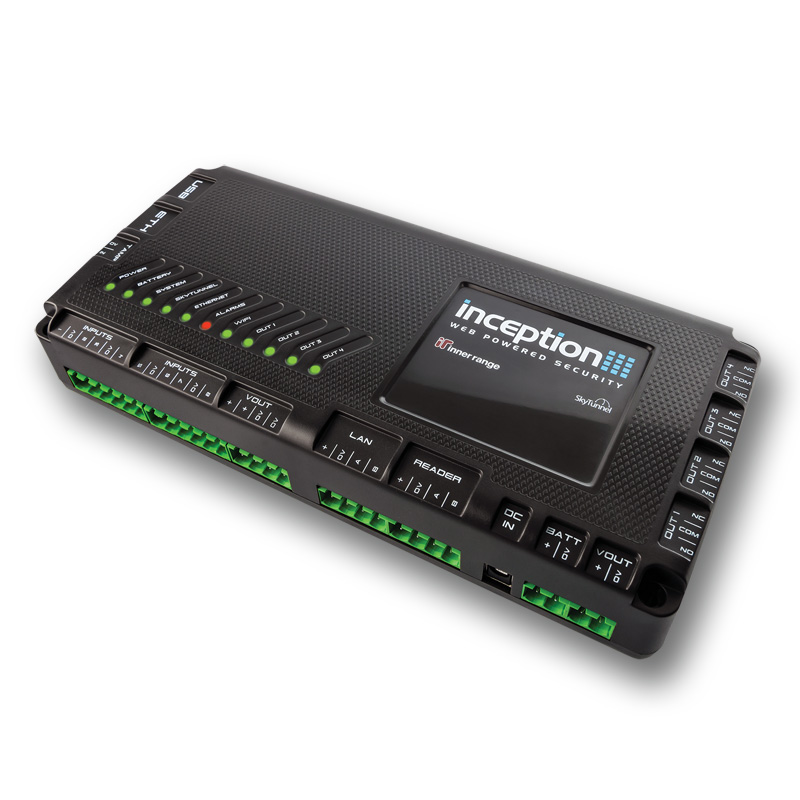 Inner Range F.A.Q.
Search Documentation, Knowledgebase And Watch Videos To Find Answers
We offer technical support from our head office in Berkshire.  We're open Monday to Friday from 8.00am to 5.00pm.  Email our tech support team via ireusupport@innerrange.co.uk or call + 44(0) 845 470 5000 (option 1).
You are never locked into a contract with Inner Range.  We hope that the capabilities of our systems will ensure you remain a loyal customer.
There are no mandatory software maintenance agreements.
We have a variety of training options available.  Both basic and advanced levels can be taken within a classroom environment or online, the latter allowing you to learn and qualify at your own pace.  When you pass the examination you will be awarded certified technician status.
Courses are valid for three years, encouraging technicians to keep their skills and knowledge current.
To find out about our training schedule or online training call our team on +44 (0) 845 470 5000 or email ireutraining@innerrange.co.uk
If you are looking for Inner Range installers in the UK or across Europe, please call us on 0845 470 5000 to be sent a list of suppliers that work in your area.
Inception is budget friendly, but costs will be dependent on requirements.  We are happy to meet with you to discuss your needs and deliver a comprehensive proposal.
Inception offers basic integration with systems such as lighting and heating.  If you are looking for advanced integration then you should consider Integriti.
Inception is intuitive for end users and can also save time and cost during the installation process; a win-win situation for both installers and customers.  An automated checklist avoids errors and a built-in help aid makes Inception easy to programme, test and commission.  It's also competitively priced for the UK and European markets.  Arrange a demo by contacting our sales team on +44 (0) 845 470 5000.