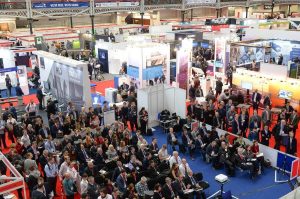 Rounding off a bumper year of events and roadshows is our annual stint at the International Security Expo at London's Olympia. Our General Manager, Tim Northwood, blogs about what makes this event worth the wait.
I always look forward to the International Security Expo because it tends to attract a more expert audience. We find delegates often come with a specific problem they need to solve and they're interested in the more sophisticated tasks and protocols our intelligent access control systems can achieve.
It's an opportunity for us to flex our muscles in terms of really showing what our products can deliver.
High security needs
We have more conversations about higher security measures – both physical and cyber – such as end-to-end encryption including through interfaces with third-party integrated systems, as well as other measures, such as sandboxing to protect the core security management platform and failover measures to prevent vulnerable downtime. It's more for us to get our teeth in to.
Sales and new customers
We've had a strong year for sales that has included expanding our presence in the Middle East with a newly appointed sales manager for the region.
But we hope we will meet more potential customers here in the UK and overseas as a result of the Expo.
Here's a quick round-up of what we'll be showing:
Integriti
Integriti is our award-winning integrated access control and security system that delivers intruder detection to EN50131 standards, and has the ability to integrate with a vast array of third-party products including CCTV, visitor management, building automation, HR, payroll, health & safety and compliance systems.
Integriti comes with a robust level of end-to-end encryption across all communications channels and interfaces.
It offers failover protocols with an IP network that runs multiple instances of itself – at the same time – across multiple nodes or servers at local, national and global levels. Database failover clustering means it will auto-connect to available nodes when necessary. This reduces the risk of cyber breach by ensuring there is no vulnerable down time.
Integriti also offers a full forensic audit trail that can track every single action and engagement with the system and report this at local, national or global levels. This means security managers can see exactly who has done what to the system and when. It is also possible to 'roll-back' changes made to system programming by any person or entity, so changes by a 'rogue' operator can be undone in one action.
Inception
Inception is our award-winning access control and integrated security system that requires no software and is easy to programme, test and commission.
Budget-friendly, it's the ideal choice if you're looking to secure a single building with up to 128 doors and want some extra functionality such as automating your lighting, heating and air conditioning.
A new firmware update means Inception users can now present biometric credentials as well as traditional access cards to gain entry. Facial recognition, fingerprint scans and iris scans can all now be used as access credentials and this allows for more advanced security configurations for clients.
Inception users can also present virtual credentials on their mobile phones via a REST API protocol to gain entry, in another addition to the system. The REST API protocol is version 4.
Come and find us at the International Security Expo at London's Olympia on December 3 & 4. Stand number K50.