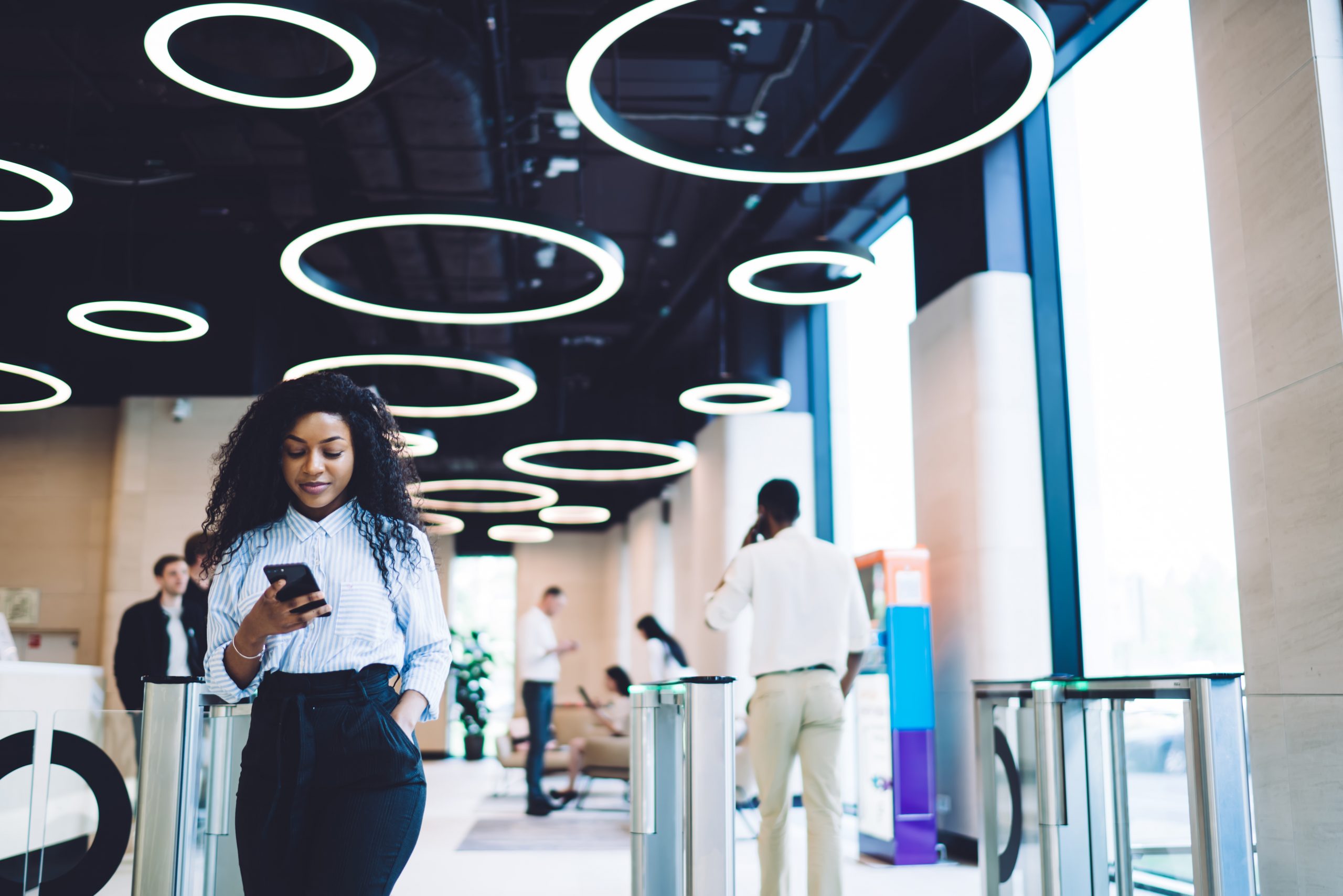 The end of Covid restrictions means many employers are looking forward to welcoming more staff back to offices in the coming months. But two years of living with a pandemic has prompted many employers and commercial landlords to think again about the access and security systems they have in place to help create safer working environments.
Here's what to consider if you, or your client, is looking to reboot access and security for an office or commercial site.
Touchless and hassle-free access for users
For users, integrated access control means they can use their smartcard or mobile phone to open doors, call lifts, enter car parks and even pay for drinks, snacks and meals with almost no touch points or hold-ups. They don't need a collection of keys and passwords or PINs. One card, or phone, opens everything they need. Even Two Factor Authentication (2FA) usually only requires users to have a phone, so you can still layer on extra security if you need it, with minimal fuss for users.
Managing visitors and reducing crowding
Integrating visitor management software with your access control system means each individual company can create its own visitor passes without having to go through a central security team. These are sent to visitors digitally and appear automatically at the right date and time on their phone with a QR code. This ensures quick and efficient access for visitors and helps reduce crowding in reception areas.
Occupancy thresholds
Another way access control systems can manage the flow of people is by setting occupancy thresholds. Users can be counted in and out of entire buildings, specific areas, individual offices or rooms, car parks and lifts. Access can be restricted once an occupancy threshold has been reached, until there is a space. All information about occupancy can be transmitted to the site health and safety manager for real-time monitoring and alerts.
Tracing people and contacts
Good access control systems allow you to identify close contacts of anyone displaying symptoms of COVID-19, or other infectious diseases, by generating detailed reports of where the infected person has been and who else has been near them.
A contact tracing report can be generated and shared quickly and easily. It can show which doors an infected user has passed through, how much time they spent in each area, what time they badged a reader and which other users were near them at the time.
Smart building management
Whether you simply want to automate lighting, heating or air conditioning based on the number of people on site, or you need a very sophisticated system with high level lift controls, visitor management, CCTV, turnstiles all fully integrated, a quality access control system can provide the solution you need. Security managers can then monitor and control all elements of the system from a single, unified platform.
Robust cyber security
You should expect your access control system to offer end-to-end encryption across any in-house private communication network or between access control system controllers, servers and door modules, or when the core system integrates with third-party products, such as CCTV.
But the best enterprise-level access control systems also offer 'partitioned sites'. This allows security managers to create users and other global entities that only exist within the partition they were created in. The partitions are completely isolated and invisible to users in other partitions, such as other tenants in the same building, and greatly reduces the chances of cyber criminals or rogue users accessing protected areas and information.
Remote monitoring
The ability for security managers to login remotely was essential even before the pandemic, so they could check details if an alert was triggered. But the need increased during lockdowns, and security managers will want to continue remote access in case more restrictions are imposed in future.
Integrators need to consider the most flexible and secure remote access for their customers, which could be via a web client, or a fixed/floating client and a secure encrypted VPN or tunnelling protocol. Whichever way, security managers for large or multi-tenant offices need to be able to access the system from home on an agreed laptop or app on their phone.
For more information about how Inner Range's intelligent access control systems can help you, please contact our sales team 0845 470 500 or ireurope@innerange.co.uk