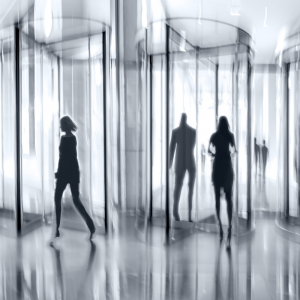 What's the best door access control system? It depends on your needs, says Tim Northwood, General Manager of access control system manufacturer, Inner Range. He offers his expert advice on what the best door access control systems can provide and how Inner Range can create a bespoke access control and security solution, whatever your combination of requirements.
First class security
Whether you are looking for an entry level door access control system or you need a product capable of Enterprise level complexity, the safety and security of your people and your site is paramount. All our products, from Entry to Enterprise level, come with intruder detection as standard. There's no need to cable, programme and maintain a separate alarm system.
Inner Range products also come with MIFARE DESFire EV2 access cards and SIFER card readers with 128 bit AES encryption from the card through to the door module. This provides superior security than traditional Wiegand-based card readers and means that even our Entry level product, Inception, is extremely secure.
Easy remote monitoring
Another 'standard' element of all Inner Range door access control systems is that they can be monitored and controlled remotely via mobile or tablet devices with a secure and intuitive app called Sky Tunnel.
Best for single sites
 If you're looking for a door access control system for a single building with up to 128 doors, our Inception system is ideal.
Basic integration
Inception includes additional functions, such as automated lighting, heating and air conditioning to save energy costs. It also offers basic lift integration and the technology can be used for locker control, accessing car garages or storage units.
No software needed
There's no need to install software on a computer, or leave a computer on site, making our Inception door access control system particularly easy to set up and run.
Budget-friendly
It offers the same power and security credentials as our more sophisticated systems but is budget-friendly for Entry level customers.
 Best for complex access control requirements and multi-sites
Our Integriti access control system delivers an intelligent integrated security solution with no upper limit on the number of doors it can accommodate. It's ideal for managing and controlling single and multiple sites at local, national and global levels.
Wide ranging integration
Integriti can integrate with a wide range of third-party systems to become a PSIM system, managing not only security and building automation but also people and business continuity processes such as HR, payroll, health & safety and other regulations.
Popular integrations include CCTV, such as Milestone and Hikvision and lift integrations including the brands Kone, Otis, Schindler and Thyssenkrupp.
Integration with ANPR to ease car park access as well as entry turnstiles and visitor management systems ensure users have trouble-free access.
Intelligent 'cause and effect' monitoring
Security managers benefit from 'cause and effect' monitoring whereby the system has automatic responses to alerts and scenarios, such as activating specific CCTV cameras if an alert is triggered. This allows security managers to effectively and efficiently monitor and respond to events on site.
Business insight
Integriti offers advanced reporting functions that enable organisations to gain valuable insight and evidence for business improvement and other core business functions.
Failover options
Customers can run multiple instances of Integriti services at the same time. Controllers and clients automatically connect to available nodes to ensure an "always on experience" minimising costly and/or vulnerable downtime.